Lipodystrophy has a core characteristic of complete or partial loss of adipose tissue and can affect men and women differently according to its subtype. Characteristic signs and symptoms can be apparent either from birth or early childhood in case of congenital generalised lipodystrophy (CGL) or can occur during puberty in the familial partial form (FPLD). However, the distinct appearance of generalised and partial lipodystrophy and metabolic comorbidities can lead to a suspected diagnosis.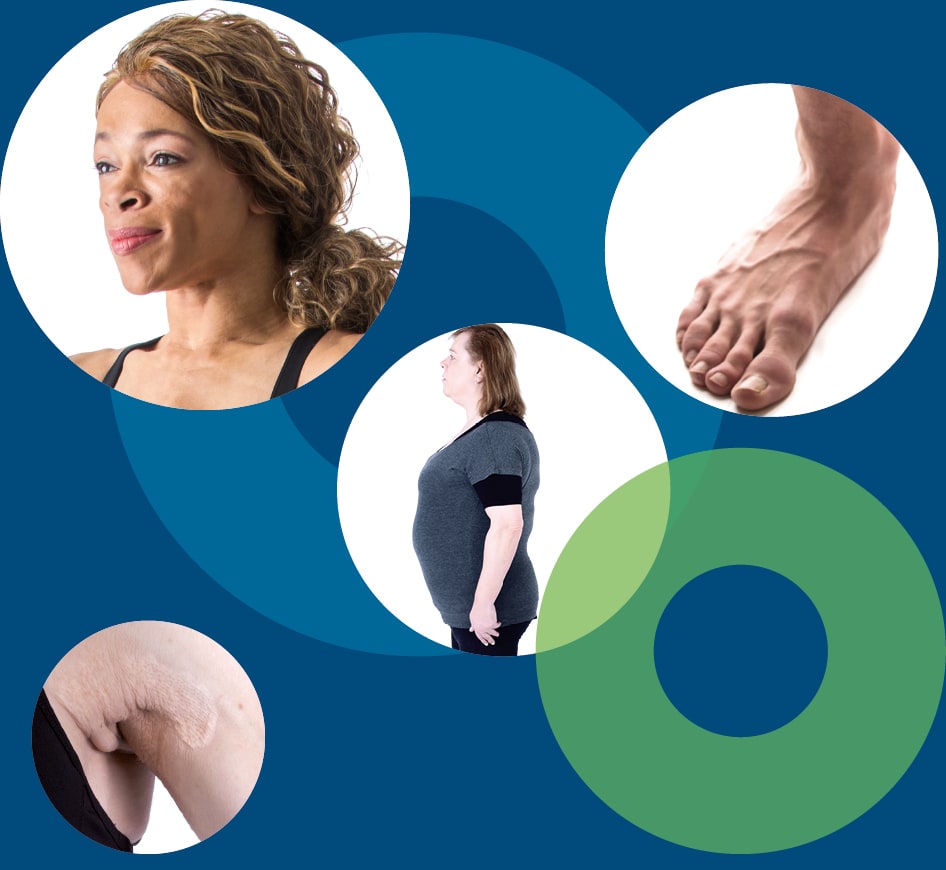 Generalised and partial lipodystrophy are considered to be diseases with many faces. The different subtypes have core, as well as supportive characteristics which increase suspicion of the disease. The essential clinical abnormalities are summarised in an international practice guideline1 that was developed in cooperation with various international medical associations:
Absence of subcutaneous adipose tissue
Supportive characteristics
Absence of subcutaneous adipose tissue
Polycystic ovary syndrome
Diabetes with severe insulin resistance
Insatiable hunger / hyperphagia
Lipodystrophy patients have a total or partial loss of adipose tissue and, as a consequence, lack the hormone leptin, which is produced by adipocytes. This leptin deficiency usually causes high blood lipid levels and insulin resistance that may lead to hard to treat diabetes. Patients may further exhibit hormone imbalances, fertility problems, insatiable hunger/hyperphagia, and liver disease due to fat accumulation.
Diabetes with high insulin dose requirement
Severe hypertriglyceridaemia
≥ 2 U/kg/day, ≥ 200 U/day  
Use of U-500 insulin
≥ 5.65 mmol/L (≥ 500 mg/dL)
≥ 2.83 mmol/L (≥ 250 mg/dL) despite treatment and diet
History of pancreatitis associated with hypertriglyceridaemia
Besides loss of subcutaneous adipose tissue as the characteristic sign of partial and generalised lipodystrophy, there are some other physical findings which support a possible diagnosis of lipodystrophy.
 
 
 
 
Pronounced acanthosis nigricans
Prominent muscles and veins
Although subcutaneous adipose tissue loss is a core characteristic, it may not be immediately obvious especially in familial partial lipodystrophy. The fat loss on the arms and legs may be hidden in a clothed patient and there may be fat accumulation in the face and neck, particularly in women. The ectopic, intra-abdominal fat deposits with a corresponding increase in abdominal girth and fat accumulation in the face and neck can lead to Cushingoid or obese appearance.
In the acquired form of partial lipodystrophy, loss of adipose tissue is mostly gradual, starting at the head and progressing down to the upper abdomen. There can, however, be fat accumulation in the areas of the buttocks, hips and lower extremities. The typical "saddlebags" appearance develops.
Pay attention to patients with unusual fat distribution and a Cushingoid appearance: they could have partial lipodystrophy!
Generalised and partial lipodystrophy cause serious comorbidities. Real world evidence shows that more than 25 % of generalised and partial lipodystrophy patients suffer from damage to the heart, liver and kidneys. Furthermore, early mortality is significantly increased with some patients dying before the age of 35.
Hyperphagia
Hyperphagia caused by leptin deficiency can lead to an increased intake of calories, which further exacerbates metabolic complications such as diabetes.
Diabetes
In children, the prevalence of diabetes varies, depending on the subtype, between 48 % and 70 %.
Hypertriglyceridaemia
Hypertriglyceridaemia at levels that can precipitate recurrent acute pancreatitis.
Hepatomegaly
Hepatomegaly caused by the hepatic steatosis is frequently found. This can develop into steatohepatitis, liver cirrhosis or even liver failure and can further lead to the development of gastrointestinal haemorrhage or hepatocellular carcinoma.
Cardiomyopathy
In clinical trials 55 % of patients with generalised lipodystrophy have cardiomyopathy.
Premature mortality
Patients with lipodystrophy may die prematurely. Major causes include: heart disease (cardiomyopathy, heart failure, myocardial infarction, arrhythmia) and liver disease (liver failure, gastrointestinal haemorrhage, hepatocellular carcinoma), kidney failure, acute pancreatitis, and sepsis.
Open popup
According to a recent study on the burden of illness associated with lipodystrophy, patients with generalised and partial lipodystrophy can exhibit different metabolic complications, physical characteristics and laboratory values. To see more detail on the high disease burden in non-treated lipodystrophy patients please click the icon on the left.
Close
% of patients with each characteristic at most recent visit

Any organ damage

Liver

Kidney

Heart

Pancreas

Physical characteristics

Acanthosis nigricans

Hepatomegaly

Splenomegaly

Other

Reproductive complications*

Lab values closest to diagnosis date

HbA1c >6.5 %

TG >500 mg/dL

0%

20%

40%

60%

80%

100%
Study objectives
To describe in patients with non HIV related GL and PL who have never received leptin or other lipodystrophy-specific therapies:
the demographics and clinical characteristics
time to organ abnormality and time to disease progression
the overall survival.
Design & patients
Retrospective patient medical chart review from 5 leading treatment centres in the United States, Turkey and Brazil covering 230 specific lipodystrophy-treatment naive patients (GL = 81, PL = 149) with a diagnosis of lipodystrophy before Jan 2015. Data extracted from patient charts included complications and comorbidities and lab values as reported. Data is not available for all patients on each characteristic. Mean follow up period from diagnosis: GL = 9.5 years, PL = 6.5 years.
Source
1. Akinci B et al. (2019); Comorbidities and Survival in Patients With Lipodystrophy: An International Chart Review Study. J Clin Endocrinol;104(11):5120-5135.
*In women of childbearing potential
References:
1. Brown R et al. (2016): The Diagnosis and Management of Lipodystrophy Syndromes: A Multi-Society Practice Guideline. J Clin Endocrinol Metab 101: 4500 – 4511
2. Handelsman Y et al. (2013): The clinical approach to the detection of lipodystrophy – An AACE Consensus Statement. Endocr Pract;19:107–116
3. Chan JL et al. (2010): Oral EA. Clinical classification and treatment of congenital and acquired lipodystrophy. Endocr Pract.;16(2):310-323. doi:10.4158/EP09154.RA
C-LD/UK/0074
Date of preparation January 2023